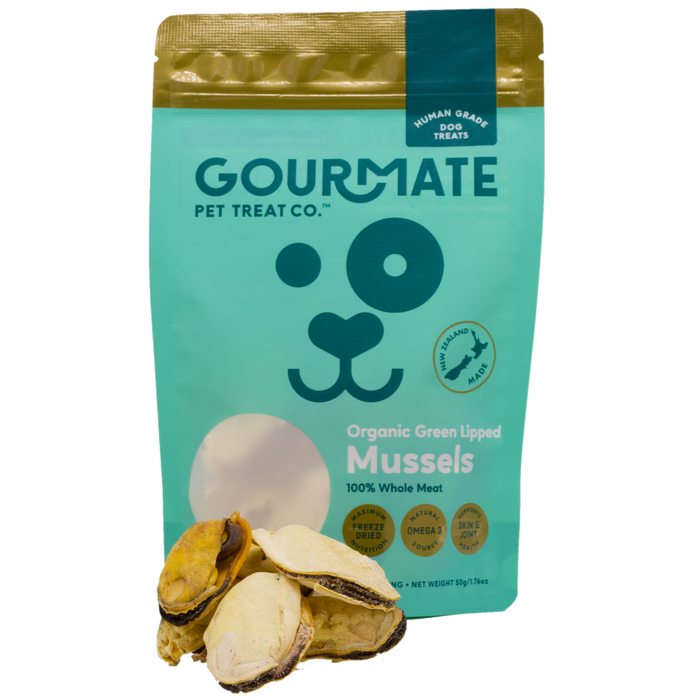 Gourmate Organic Green Lipped Mussels
Original price
$14.95
-
Original price
$14.95
Organic Green Lipped Mussels Dog Treats
Looking for something new and nutritious? Try our Organic Green Lipped Mussels pet treat the perfect pet snack. These human food-grade dog treats tick every box for your best mate - natural, good for them, and doggone delicious.
Gourmate's Organic New Zealand Green Lipped Mussels are loved around the world for their support of pet joint health and comfort. These treats contain the superfood trifecta of omega-3 fatty acids, glucosamine and chondroitin for a tasty and natural health boost.
New Zealand's Green Lipped Mussel has the super(dog)food trifecta of omega-3s, chondroitin, and glucosamine to support joint health and other inflammation-related health concerns. 

At Gourmate Pet Treat Co. we take the very best organic mussels from the cold, clean waters of Stewart Island and snap freeze-dry them to lock in the nutritional benefits. 
With no preservatives or additives put in and nothing is taken out, our mussels are a delicious natural treat full of beneficial mussel oil
Not for human consumption. Sorry
Get your dog jumping for joy again! Gourmate's Organic Green Lipped Mussels are a delicious and sustainable snack packed with superfood goodness to support your dogs' joints. 
High-tech freeze drying preserves these mussels naturally - locking in flavor and texture and ensuring the bioavailability of omega-3 fatty acids, glucosamine, chondroitin and more. 
Just one ingredient - 100% New Zealand Organic Green Lipped Mussels

The original hand-shucked Organic mussels for dogs - best quality worldwide

Rich in natural mussel oil - no oils removed during processing

Supports canine joint health naturally with a unique combination of essential fatty acids, phospholipids, glucosamine, and  chondroitin 

Suitable for dogs (and cats) that suffer from arthritis, irritation, and other conditions related to inflammation

Natural source of protein, vitamins and minerals for your dog's skin, coat, eyes, and cardiovascular health 

A seafood treat suited to most hypoallergenic and raw diets

No additives or preservatives, grain and gluten free

Proudly made in New Zealand from organic and sustainably farmed Stewart Island mussels

Human food grade ingredients and processing for best quality
Ingredients:
Organic Green Lipped Mussel - that's all
Product of New Zealand
Feeding guide:
Pet treats are intended for supplemental feeding only. We recommend 1-2 whole mussels per day as a snack, hide and seek treat, or dinner topper.